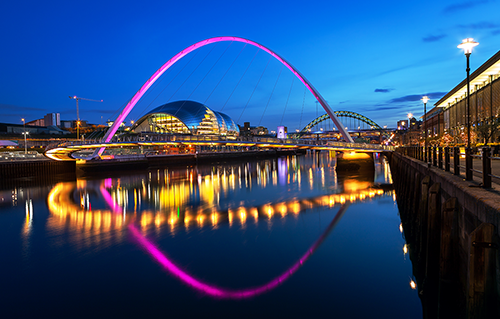 Alex Goodall

The cost-of-living crisis has prompted the revenues and benefits departments of local authorities to find smarter ways to address arrears whilst delivering a more compassionate service to residents. But this requires them to streamline their processes and devote additional time to supporting those who are struggling financially.
Our latest webinar with client Newcastle City Council honed in on how the governing body augmented their income collections process with Voicescape Collections. Joining us was Service Improvement Lead for Revenues, Benefits and Exchequer Services, Andrew Culpin, whose department is responsible for Council Tax payments, household support funds, and more.
Andrew talked us through the council's background, the issues they faced, and how they're using Voicescape to overcome those challenges.
Let's take a closer look…
How it began
Andrew kicked off the webinar by discussing the region's demographics, noting that they have a high student population (42,000) and 320,000 domestic properties. There are 35,000 claimants for Council Tax support, and 13,000 receiving housing benefits.
The council faced a number of service pressures, including low staffing, a continued operational budget reduction, and increased workloads.
"In particular, the cost-of-living crisis is making things a little more difficult for our officers in terms of collections, and also we're taking that bit longer, as we want to give a helping hand when talking to residents to see if we can better support them with discounts and so on. This all puts added pressure on the service, as we're trying to collect where we can."
Thinking differently
Newcastle City Council sought an approach that removed unnecessary contact. Their main focus was on recovery. They knew that implementing new, innovative technologies designed to allow them to free up their people resources where possible could be the way forward.
"What can we do differently? How can we better increase our collection rates?"
The team was already at an approximate collection rate of 97% year on year. But they were keen to make improvements where they could, especially in these challenging economic times.
In 2022, Andrew had spoken to fellow revenues and benefits colleagues at Middlesbrough Council about their automated outbound calling solution. Despite initial scepticism (the team had tried a different product in the past but experienced minimal success), they decided to give it a go.
"Do you know what, we've nothing to lose on this. So, after a procurement phase, Voicescape was the most successful."
The Voicescape process
Andrew was eager to demonstrate how Voicescape works alongside their processes. He explained how his team uploads a 'pre-list' before the Voicescape system automates outbound engagement, noting how the pre-list volume can vary.
This omni-channel process covers every eventuality, so contact can be made through various methods – such as by a text or voicemail message.
"If all call handlers are busy, we've programmed the system not to call until someone becomes available, in a bid to avoid queues.

We prefer our managers to be in control of the calling system, so residents don't become irritated while waiting to be put through."
With total control of the text and voicemail messaging, the team can vary their wording to suit the residents they're trying to reach. They're also able to adjust the accent on the voicemail messages, as well as the outbound calling number that the residents see.
"We initially thought: do we do a big bang and start dialling up loads of people, or start small? Unsurprisingly, we went for the second option, to be a little bit safer and more comfortable with what we were doing."
Successes so far
The team experienced positive results with Voicescape right from the start – and the figures show they're moving in the right direction.
"Both months [September and October] gave us confidence that this was actually something that would be successful, and that we could work with and tweak. So, we increased our numbers on the list and the officers available for calls."
After several months using Voicescape Collections, Newcastle City Council received around £174,000 more in Council Tax. They even made successful collections from residents who weren't direct transfers.
Despite these results, Andrew and his team were mindful that there was more to the process than collecting Council Tax.
"It's not all about chasing people for money and chasing debt – it's about supporting people and helping residents where we can."
They also received positive feedback from residents, who explained that they were more encouraged to return their calls as there is no charge for doing so – this cost goes back to the council.
Currently, the contact rate is at 42%. Around 52% don't receive a reminder because they're either paying without one or gaining the right support.
Further success is additionally shown through staff feedback.
Benefiting from behavioural science
Andrew acknowledged the advantages of behavioural science, highlighting that while they're in control, they also have Voicescape's support available if needed.
"This is something that really appealed to us from Voicescape, that we could start to measure how we were contacting residents and the messages we were putting out to them, along with refining our methods based on success."
He also highlighted their new-found ability to experiment with the messaging. For example, residents in higher Council Tax band areas may respond to more direct communication, while those in lower-band areas might prefer a softer approach.
What the future holds
Newcastle City Council's partnership with Voicescape, although in its early stages, has yielded some valuable lessons.
Looking to the future, there are a number of other debt types where the council sees great potential. Their Business Rates Manager and Sundry Debt Manager have already proposed using the same solution in their departments. And there are plans to utilise the system to encourage Council Tax payments via direct debit.
Voicescape is also working with the council on payment integrations that will remove barriers and make it easier for customers to make payments. Currently, residents receive links asking them to log in and provide their Council Tax details. But the new system would allow them to go straight to payment.

"So far, we've had a really successful journey with Voicescape. They've been really helpful and supportive along the way, but everything does remain in our control. It's quite interesting to see if we tweak one thing or play around with another, how successful things are."
Ready to boost your collections rate?
As the cost-of-living crisis continues, any changes you make to your collections process must be effective and take into account your residents' unique needs.
To find out how Voicescape Collections can work for you, reach out to our team today on 0161 259 1122 or email hello@voicescape.co.uk.