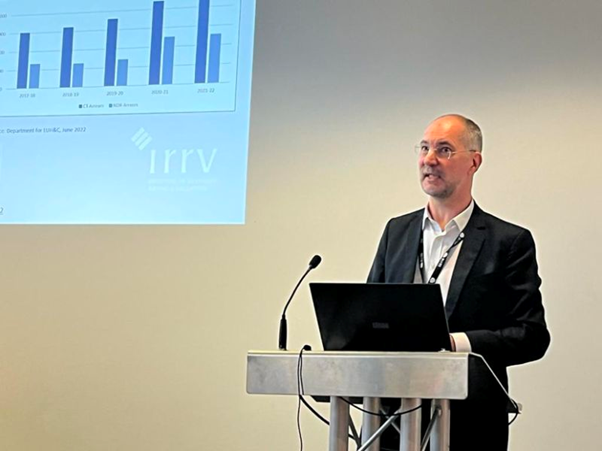 Alex Goodall

In October 2022, we exhibited at the IRRV Annual Conference and Exhibition at the Telford International Centre. During the event, Voicescape's Chief Operating Officer, Gary Haynes, presented a talk on modern Council Tax collection methodology. He took a deeper dive into the ethical and effective application of behavioural insights, data science and automation technology.
In case you missed it, here's what Gary covered…
The post-pandemic world
As the cost of living crisis continues to put a strain on budgets, the number of households falling into arrears (many for the very first time) is steadily increasing. At present, Council Tax arrears are up by £1.66bn (51%) over the pre-COVID average, while non-domestic rates arrears are up by £1.22bn (91%). What's more, according to the Department for Levelling Up, Housing and Communities, both Council Tax collection rates and the receipt of Non Domestic Rates are down compared to pre-pandemic levels – by 1.15% and 2.85%, respectively.
This is putting further strain on local authorities, as well as their revenues and benefits teams, who are now forced to do more with significantly less. The tough economic climate has also put new and immense pressure on councils to change their ways of working in order to continue delivering services and supporting the most vulnerable people in society.
A modern collections methodology
At Voicescape, we wanted to create a solution that supports local councils, their revenue collections officers, and the communities that they serve. In 2021, we began doing just that. Voicescape Collections for local authorities harnesses the combined powers of data science, behavioural insights and automation technology to drive efficiencies. Rather than teams making outbound calls at pre-summons stage, the platform automates this. Thus, driving early engagement and calls from residents who want to discuss a solution to their Council Tax arrears.
Voicescape Collections enables income and collection officers to:
Group residents together according to shared characteristics so that intervention can be tailored more specifically to their needs
Anticipate resident payment behaviours so that resources can be targeted more precisely
Make case histories and key details available at a glance through visual presentation


Why intervention shouldn't be a one-size-fits-all approach
While letters are often an essential part of the intervention and enforcement process, they're a costly method for councils and they often go ignored by residents.
Voicescape Collections provides cost-effective interventions so that officers can focus on the cases where a personal approach will be most effective. This ensures the best outcome for both you as a council and your residents.
The power of voice
We want to connect our customers with their communities, and our years of experience have found that voice is the best method of tenant engagement. But it's essential to use voice correctly. That's where behavioural insights come in.
Using behavioural insights, we fine-tune the approach to greatly improve response and engagement rates, ensuring positive outcomes for your residents and officers. Here are two examples of small messaging changes that can have a big impact:
A real-world customer use case
In 2020, Middlesbrough Council was faced with the dual challenge of chasing and recovering growing Council Tax debt. By automating a behavioural insights-tuned message to a data science-targeted group of people through Voicescape Collections, they generated over £330,000 worth of incremental Council Tax arrears revenue from tenants at the pre-summons point. Their officers and customers were also incredibly satisfied with this new proactive process.
Find out more about tackling the unprecedented cost of living crisis
The pressure on local councils cannot be denied. As the cost of living crisis continues to worsen, taking the same manual approach to Council Tax collections is no longer sustainable. If you want to improve engagement rates with residents and collect with care, you need to invest in modern solutions. If you don't, you'll fall behind on your collection targets.
Request our latest eBook today (Due to be released in November) to learn more about our market-leading solution, and how it worked for Middlesbrough Council.