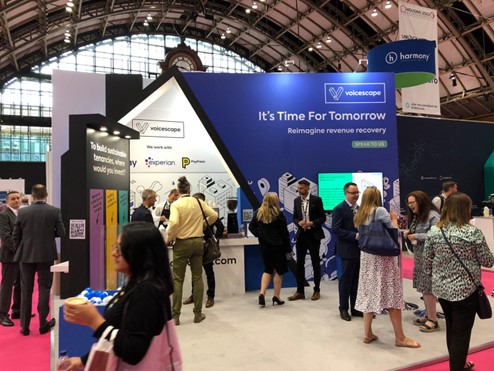 Alex Goodall

Voicescape Chief Revenue Officer, Bill Williams, hosted an insightful panel discussion on the Insight stage at the Housing 2022 conference. The conversation focused on how organisations are meeting the challenges of income collection amid the worsening cost-of-living crisis, and featured key revenue collection leaders from housing associations:
The expert panel explored how these forward-thinking housing associations are taking advantage of intelligent digital technology to capture tenant behaviour. Not only does this allow them to maximise income collection, they can also drive a more targeted and tailored approach to tenant engagement.
Let's take a closer look at the benefits of modern technology, and how it's reshaping the future of revenue collection…
Improving Engagement
As Tansy Crowley-Sweet pointed out, unless you're a psychic, you can't predict what the future holds. That's why housing associations are taking advantage of digital solutions like ours to identify individual tenant behaviours and risks before rapidly automating interventions. These personalised interventions are based on a track record of results (or trends) to maximise the likelihood of customer engagement and minimise failed transfers.
This reduces the generation of new caseloads and the resulting volume of active cases.
"All of our communication is arranged through the nudge theory concept, so our automated messages at different stages in the process are tailored to deliver a different result." - Chris Marshall, Head of Housing Services at Thirteen Group
Increasing Value
Allowing technology to take the reins on identifying customer needs and automate actions frees up time for staff to focus on residents who require (and want) more focused personal attention. This enables officers to address any tenant challenges, therefore bettering customer satisfaction. It also gives them the opportunity to allocate time to call former tenants to recover debt – which tends to be lower down the priority list compared to current arrears.
Not only that, removing the need to conduct manual or repetitive work can improve officer job satisfaction, mental health and overall wellbeing. It's a win-win situation for everyone!
"What we wanted to do is buy time for our colleagues to be able to spend more time with customers. Visibility is something that we all lost because of the pandemic, when we had to retreat and be locked in our homes, but actually buying time to spend with customers really drives satisfaction." -

Caroline Speirs

,

Head of Finance at Thirteen Group
Reducing Debt
Spending more time having quality conversations with customers will naturally improve your income recovery operations and discourage former tenant arrears. By facilitating communication at the earliest opportunity, you'll prevent the situation from progressing into something that's both costly and unmanageable. In these early stages, officers can have personalised conversations about alternative payment arrangements and keep tenants engaged.
At Voicescape, we like to call this ethical approach to arrears 'collecting with care'.
"We're doing something at the moment called 'collection with care'. What we've identified is that certain customers, as a business, we would never evict. Even if their arrears are very high, we would try our utmost to avoid evicting those people never evict those people – they've got really complex needs." -

Tansy

Crowley

-Sweet

, Income and Residential Property Manager at whg
Partnering With Technology Companies
The perfect storm of COVID-19 and the cost-of-living crisis has emphasised the transformative ability of technology to actively monitor and understand tenant behaviour and engage in the most appropriate way possible.
If you haven't yet considered adopting digital tools in your housing association, it's time to partner with a technology provider that understands the ever-changing needs and challenges of your business.
That's where Voicescape comes in...
"Every time the government changes their mind about something, we need organisations to work with us that are going to respond really quickly. We can't be going to an organisation that gives us a roadmap. We need someone that's going to respond and help us through those challenges." -

Tansy Crowley-Sweet, Income and Residential Property Manager at whg
Our innovative solutions are unique to the social housing sector – harnessing the combined powers of artificial intelligence, machine learning, digital technology, behavioural insights and data science to build trust, drive efficiencies and maximise revenue. It enables you to reach the right people, at the right time, in the right way – increasing tenant engagement whilst improving your arrears position.
Does this sound like a solution your housing association needs? Contact us today to learn more about our product suite.