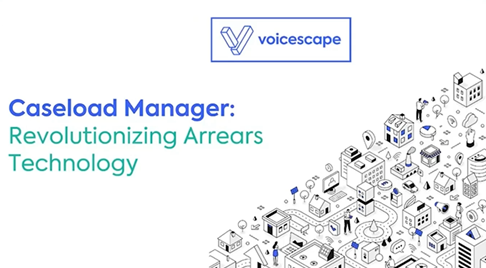 On January 26th, we hosted a live webinar discussing the use of Artificial Intelligence and Machine Learning in rent arrears management. It was also an opportunity for us to launch our groundbreaking new solution: Voicescape Caseload Manager (CM).
During the session, Thirteen Group's Caroline Speirs (Head of Finance) and Chris Marshall (Head of Housing Services) explained how Voicescape CM has transformed their income recovery operations. In case you missed the event, we've summarised the key takeaways below.
The launch of Voicescape Caseload Manager
Our very own John Doyle (Founder and CEO), Bill Williams (Chief Revenue Officer), and Christopher Walker (Behavioural Insights Lead) kicked off the session by introducing Voicescape CM.
The main objective of CM is the intelligent automation of your arrears caseload. In a nutshell, it enables personalised, automated interventions that are designed to achieve the optimum outcome for both you and your residents.
Our CM solution has been created in close partnership with Thirteen Group to help them overcome their most critical commercial and operational challenges.
The impact of Caseload Manager in the real world
As with many other UK housing associations, Thirteen Group saw first-hand how challenging debt recovery became during the pandemic. They've always had an ambition to use behavioural science to determine the best intervention method for each individual resident, as well as increase their use of automation to free up their team's time. The pandemic brought this aim to the fore once more, and we set to work helping turn this ambition into reality.
"We didn't set out upon this journey to increase collection by a particular percent or by a particular value. For us, it was really about delivering time and how we can then use that time with customers." - Chris Marshall, Head of Housing Services at Thirteen Group.
The introduction of Caseload Manager
After the initial implementation phase of CM, Thirteen Group started to address the wider possibilities: rolling the technology out to all their teams. In December 2021, they made the decision to phase out the income collection analytics solution that they were using at the time and solely focus on CM.
Thirteen Group decided to make training a priority to improve adoption and developed a training plan around all 150 colleagues. This was spread across a two-week period to ensure the technology would be used to its fullest extent and integrated seamlessly into the business. This training model will also save real-time when new adopters take up CM in the coming months.
The training programme has since been extended to support colleagues who will be managing calls ahead of full implementation.
"Without the commitment from Voicescape, it would have been impossible to deliver what we had set in the timeframe that we did. It was through the team effort that we were able to go live so quickly. The training sessions were a huge success and the teams couldn't wait to be switched over to CM. They were absolutely blown away." - Caroline Speirs, Head of Finance at Thirteen Group.
How CM transformed the way Thirteen Group views arrears
While CM is still in the process of being fully implemented into the housing association, the powerful solution is already supporting Thirteen Group in their mission to deliver a great customer experience. CM automates, simplifies and streamlines their operations, giving their officers more time to focus on residents who require manual intervention. The technology has also enabled their team to refine their decisions both in the office and on the move due to its cross-platform capabilities.
This all allows for a 'Great Day at Work' for their colleagues – something that's extremely important to the team at Thirteen Group.
"I no longer have to download reports or compare various reports to see what's going on with accounts. I'm able to manage my resources and performance using the management dashboard." - Team Leader at Thirteen Group.
As Thirteen Group are now able to make personalised interventions, CM has increased engagement for their former tenant arrears (FTA), generating around 100 callbacks per area so far.
As promised, CM has minimised the generation of new caseload and resulting active cases. In terms of current tenant arrears (CTA), the housing association has also experienced a reduction in caseload for their housing coordinators. Previously, they'd have had 40-60 recommendations each week. Now, they're seeing around half of that thanks to the reduction in manual actions. It's fair to say that this is a huge improvement. Is it time to realise the true value of your data and address the entirety of your arrears pool in one solution?
"Caseload Manager not only aligns with the values of our organisation to deliver automation driven by behavioural science – it's helped us to deliver support to customers when they most need it, and uses all of the intelligence we have on our customers to help us be smarter in our interventions. It has supported our coordinators to manage debt cases in one clear dashboard to streamline processes and reduce the volume of manual intervention required. We've already seen, in a relatively short space of time, the benefits of how the system continues to learn from the actions that we take and the behaviour of our customers to refine those interventions." Chris Marshall, Head of Housing Services at Thirteen Group."
Are you ready to improve the efficiency and effectiveness of your income recovery operations? Download our product brochure to discover how Voicescape Caseload Manager will revolutionise the way you manage arrears.