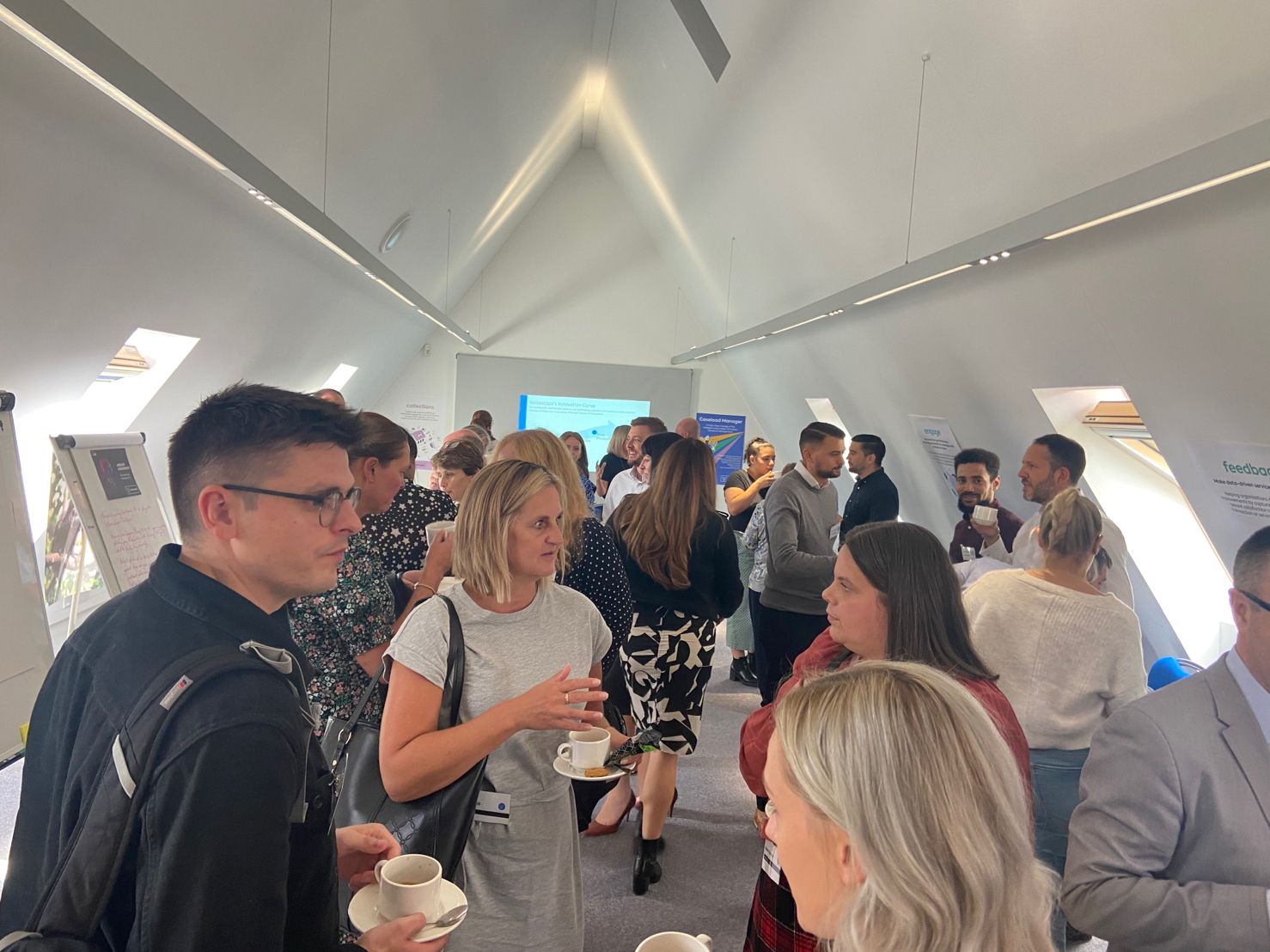 Alex Goodall

Last week we welcomed over 40 customers and partners to our inaugural customer conference. It was an event designed to bring together our users from across the social housing and local authority sectors to share thoughts and experiences on the key challenges facing organisations to navigate regulatory changes and the escalating impact of the cost-of-living crisis on their residents and staff.
We are living and working in times of unparalleled uncertainty, and in times like these it's crucial that we come together to look for opportunities within these shared challenges and find new ways to innovate and generate positive outcomes. That was our aim and here are some of the key insights from this customer conference.
Tenant Satisfaction Measures
Following an opening keynote from Voicescape's CEO, John Doyle, the morning session focused on the impending changes to Tenant Satisfaction Measures within the new regulatory framework outlined in the Social Housing Regulation Bill. This will require all social landlords to start collecting data from April 2023 from residents based on transactional and, for the first time, perception-based feedback, with the final details having now been announced by the Regulator.
We heard from Stephanie Lacey, Consultancy Lead at Housemark – a data and insights company for the social housing sector – who outlined what the regulatory changes mean for gathering resident feedback. This gave delegates the opportunity to think about the ways in which they currently gather customer feedback, how to use the results collected and what is required to be 'regulation ready'. One key concern for delegates in this area was around how to manage 'survey fatigue' among residents.
Abigail Oddy, Business Transformation Manager at Citizen, said: "My concern from a transformation perspective is that we're going through a programme of redesigning our services to gain better insight to support customers. As we go through that, we need to consider the volume of transactional surveys that we're implementing, and the issue around survey fatigue for customers is something we need to be careful to manage. It's about identifying and balancing what data is important to capture and what's not."
Learnings from Jigsaw Homes' TSM trial project
During the second session, Sarah Chilton, Head of the Chief Executive's Department at Jigsaw Homes Group, which has recently implemented a TSM trial using Voicescape's Feedback product shared key insights and findings with delegates. Key successes included:
28,834 tenants surveyed within 5 days
3,474 responses received
89% of respondents completed the automated survey in full
More than half (52%) of respondents completed the survey over the phone – reinforcing the power of the human voice to engage tenants
The response to the findings from Jigsaw's trial was extremely positive among delegates at the conference and sparked interesting debate between individuals around how they might trial potential TSMs to benchmark tenant satisfaction within their own organisations to get ahead of April 2023.
Paul Malkin, Head of Customer Services at Aspire Housing, said: "We currently benchmark through Housemark's Star survey on a monthly basis so we're used a running programme of feedback on certain satisfaction measures. It's been really interesting to see how Jigsaw has trialled some of the potential new TSMs that will be coming into effect. After today, I'll definitely be recommending that we start adding new measures to our monthly surveys to trial ahead of April so that we can develop a further benchmarks for our satisfaction measures to be prepared to report against."
Welcome to the Ideas Lab
The opportunity to generate new ideas between a group of industry peers was something we wanted to harness at the Voicescape customer conference, so we created our first 'Ideas Lab' as a breakout room between sessions for delegates to discuss ways of working together and to see how customers use Voicescape's technology in different ways to gather learnings to take back to their own organisations for development.
Rachel Gamble, Housing Tenancy Manager at Hull City Council, said: "From the functional income side, it's hard to predict what level of satisfaction you're going to get when you're chasing rent arrears. However, I was really interested in what the presenters had to say about the interaction from tenants between web links and phone links. I'm keen to find out more about how this differs between age demographics so I can take these learnings back to my own team."
Income collection – The 'nudge approach'
Helen Bruce, Income Management Team Leader at Onward Homes joined us on the day to present a case study from their organisation's approach to Income Collection with Voicescape and how they've used nudge theory to encourage customers to make rent payments without the need for direct contact from their income team.
This was a fascinating session and sparked further debate among delegates on the ways in which nudge theory could be applied to other service areas to prompt residents to take action – without the need for human intervention – freeing up resources within teams to focus on tasks that do require a human touch, such as one-to-one support.
Arrears post pandemic and the cost-of-living challenge
In the final session of the afternoon, Paula Jenner, Head of Income Services at Citizen shared her insights on the inroads that Citizen has made in recent years in supporting residents with welfare reforms and the roll-out of Universal Credit, to managing the challenges presented by the cost-of-living crisis and rising energy prices.
In this insightful session, Paula shared how the organisation has been able to free up staff resources to allow them to invest in building relationships with residents at the earliest point to generate higher levels of resident engagement, and the impact of a proactive contact approach through using Voicescape's suite of engagement solutions.
With a difficult winter approaching, the day's conversation concluded with a constructive discussion around how organisations can manage support for residents already struggling with increasing energy bills and rising household costs. Delegates shared ideas about how they are deploying hardship funds to support residents but there was a consensus among the group that the proposed rent cap will put further strain on already stretched organisations to provide additional support to residents in these ways.
What's certain is that now, more than ever, there is a need for the social housing sector to unite and continue to share ideas and new ways of thinking to help connect communities and navigate these challenging times together.
If you'd like to be part of our next customer event, please contact us at marketing@voicescape.com