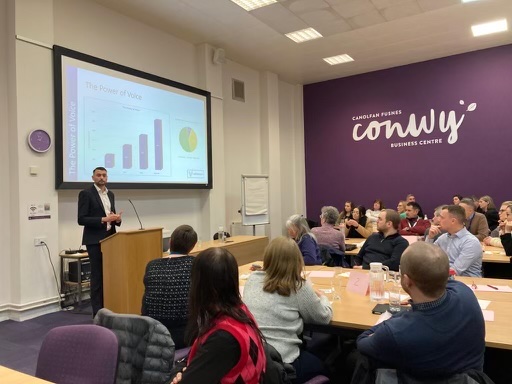 Alex Goodall

In January 2023, Voicescape hosted the North Wales Rent Group Officer Resilience Event at Conwy Business Centre. The purpose of the day was to help with officer resilience during the developing cost-of-living-crisis – an important objective given the current financial pressures experienced by many social housing tenants. It was a valuable opportunity to meet income officers and facilitate the sharing of insights, knowledge, and best practices with colleagues working directly with these vulnerable customers every day.
During the event, we conducted an insight project with the attendees, who came from nine North Wales organisations. The purpose of the project was to gain a comprehensive understanding of the future challenges faced. The following summarises our findings…
Q1. Do you think 2023 will be more challenging for you than 2022?
Given that inflation is now at a 41-year high of 11.1%, it should come as no surprise that 90% of participants voted 'yes' when asked if 2023 is going to be a challenging year.
Q2. Have you noticed the impact the cost-of-living crisis is having on the tenants that you support?
The number of people facing financial hardship is increasing, so it's no surprise that 97% of respondents said that the cost-of-living crisis is having an impact on the tenants they support.
Q3. Have you noticed an increase in your workload?
With rising arrears comes heavier caseloads for income officers, and 87% said their workload is already increasing.
Q4. Do you have any best practices or tips you would like to share with colleagues doing your role in other organisations?
The most common advice from income officers for income officers is to get to know tenants on a deeper level, be reasonable, work together, and embrace change.
"It's all about tailoring your approach to suit the individual and their needs." – Survey respondent
"Tackle complex cases early in the morning if possible, don't delay these." – Survey respondent
"I keep a list that I run through checks when talking to tenants that I've reviewed areas where I can help." - Survey respondent
Q5. Are there any external resources or organisations you've come across that help you do your job supporting tenants?
The majority of income officers surveyed agreed that, given the sheer variety of cases, a range of resources and organisations may be useful. Names that recurred throughout responses include Shelter (housing and homeless charity), Policy in Practice (benefits calculator), Citizens Advice, and Voicescape.
Q6. What additional support, resources or changes would help you with your role?
A large number of income officers said that more staff and funding, greater flexibility, training (specifically online), and smaller patches would help them in their role.
Q7. What upcoming challenges do you feel will have the biggest impact on your role, and why?
In addition to the cost-of-living crisis, those surveyed stated that unemployment, mental health issues, the bedroom tax, and less discretionary housing payment (DHP) funding are the biggest challenges ahead.
Q8. What more do you feel could be done to support your tenants?
A lack of time and resources appears to be a major theme that emerged from the research, and many believe that more time to support people with their mental health and wellbeing could help sustain their tenancies.
"More help to get them back to work. So many people are struggling, but there is little talk of getting into work for those who are able." – Survey respondent
Make the most of your existing resources
This research piece underlines what we already know: the cost-of-living crisis is putting a lot of stress on income teams – especially those with limited resources. Fortunately, adding new team members is not the only solution to collecting more and fostering strong relationships with those experiencing financial difficulties.
Voicescape Collections drives inbound calls from residents who want to discuss a solution. This reduces the stress on income officers while giving them more time to focus on holding engaging conversations that deliver positive outcomes and sustainable resolutions.
To learn more about how it could work for you, book a demo with one of our experts today.