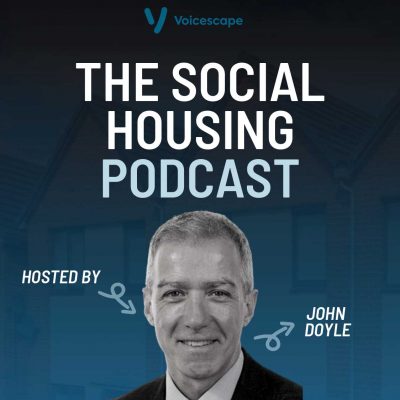 Tenant engagement isn't new. But for some social housing providers, knowing how to best approach it isn't always obvious. Often there is an over-reliance on traditional methods such as template letters and phone scripts. However, the best tenant engagement strategy goes beyond this.To tap into the latest thinking and get insights from some of the industry's most respected voices, we decided the time was ripe to host a continuing series of podcasts. If you missed them, we've summarised the first eight episodes of The Social Housing Podcast below.
Episode 001: Andy Burnham's Approach To Social Housing
We were thrilled to secure the Mayor of Greater Manchester, Andy Burnham, as The Social Housing Podcast's very first guest. In this episode, Voicescape CEO John Doyle sat down with Mr. Burnham to discuss his approach to social housing in the North, as well as his thoughts on the Greater Manchester Spatial Framework and his overall mission as mayor.
"I think it's been a long-term problem that no one has corrected."
Episode 002: From Being Homeless To Helping The Homeless
Lara Oyedele is truly an example of someone who deeply understands (and cares about) the social housing sector. Listen as we discuss her fascinating journey – from her own personal experience with homelessness through to her current position working as a board trustee for Hope Housing in Bradford.
"I don't think that the solution to homelessness in this country is just building more homes."
Episode 003: Nick Atkin's Unique Views On Social Housing
It was a pleasure to speak with CEO of Yorkshire Housing, Nick Atkin, about how the retail and office space could be the key to creating more social housing in the UK. Join us as we discuss his views on the classic 9-5 working model and how digital technology can be an enabler for housing associations across the country.
"We seem to sometimes think our customers live in a parallel universe, and they don't."
Episode 004: Supporting Tenants' Mental Health Through COVID-19
Jayne Adamson – aka the 'tenant support superhero' – was awarded an MBE for services to housing and suicide prevention in the Queen's Birthday Honours List 2020. In this episode of The Social Housing Podcast, we discuss Jayne's extensive experience in the housing sector as well as the various challenges she expects housing associations to face in 2021.
"We're very aware of people's situations and we make sure we're looking at that affordability aspect."
Episode 005: Journey To Becoming A Champion For Tenants' Rights
We were delighted to have Leslie Channon as our first guest of 2021 – a public affairs and tenant engagement consultant at TAROE Trust who's dedicated to helping give tenants a voice. Listen as she describes her work in the social housing arena and how Grenfell has impacted the direction of her own profession.
"The tenant voice has not been listened to by the government."
Episode 006: The Tenant's Trust Problem
Despite high landlord satisfaction scores, there's still a trust problem for tenants. In this episode, we discuss with Matthew Gardiner – former CEO of Trafford Housing Trust and Head of Ideation at L&Q Group – why this may be the case, before exploring how to rebuild that trust. This isn't a conversation to be missed!
"On the face of it, you would have thought that it [the social housing sector] would be the absolute tenure of choice – but it's not."
Episode 007: Why Was Home Ownership In The White Paper?
Alistair McIntosh, founder and CEO of HQN, is known for never being short of an opinion or two. In this episode, he shares his thoughts on the Social Housing White Paper released in November 2020 – a document that once again raised eyebrows. Alistair definitely didn't hold back while expressing his opinions on the topic…
"Until we tackle the housing market, social inequality [and] social mobility will stay exactly how it is."
Episode 008: Building A Thriving Community For Tenants
Have you ever considered the impact a lack of funding and support groups could have on the long-term sustainability of tenancies? In our most recent episode of The Social Housing Podcast, we sit down with Matthew Buckham from Sovereign Housing Association to discuss how to build a thriving community that's set up for long-term success.
"[It] was clear that we needed to listen, and we needed to really understand what our partners needed and wanted."
The key takeaway
It's clear that now, more than ever, social housing landlords need to take advantage of the latest technology to build and ultimately maintain a strong relationship with their tenants. Our solutions can help you do just that (and so much more). Voicescape's bespoke suite of digital tools can support you in staying connected with your tenants and providing them with a highly valuable service.
If you're curious about how our solutions can help you build more sustainable tenancies, simply get in touch with us today.
Register Your Interest
Want to be a guest on The Social Housing Podcast? Reach out below and our media research team will be in touch as soon as possible.