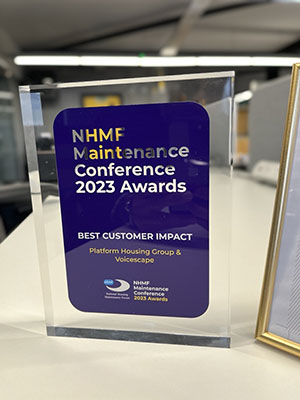 Alex Goodall

We're thrilled to announce that we won the Best Customer Impact award at the NHMF 2023 Awards with our wonderful client Platform Housing Group! It's great to be recognised by a panel of independent judges for all the hard work we're doing in the housing sector.
Since 2021, we've collaborated with Platform Housing Group to reduce no-access rates for gas service appointments – a common yet costly issue that requires a new way of thinking. Just four months after implementing Voicescape Compliance, the housing association reduced the rate of no-access appointments by 24%. This not only improved the efficiency of their team, but also provided a better service to their customers.
"We're incredibly proud of our work with Platform Property Care. No-access appointments are an age-old challenge for the social housing sector which requires a new approach. Not only is compliance a reputational risk, it carries a cost burden. By automating a traditionally labour-intensive task, organisations can free up valuable people to have more meaningful and impactful interactions – better for teams and for customers. I'm confident the sector-wide impact of the Voicescape Compliance solution – as evidenced by the results at Platform Property Care – will be significant." – Bill Williams, Chief Revenue Officer at Voicescape.
At Voicescape, our aim is to support our customers and their communities through technology, ensuring housing associations remain compliant, and tenants are safe in their homes.
"Voicescape has allowed us to change the way we schedule our gas servicing appointments, moving from a prescriptive approach to a more consultative approach. We're now providing a better service for our customers and ultimately reducing the cost and inefficiency of no-access appointments. We can now see – in real time – the customers who have confirmed appointments and those who still require contact. Having this level of information is truly changing how we work." – Lee Vernalls, Assistant Director at Platform Property Care.
The need for technology is clear
Voicescape Compliance is just one of the solutions we offer to ensure housing associations remain compliant with ever-changing legislation, reduce workloads, and build strong relationships with tenants – who are facing increased pressures. Take a look at some of the rest of our product suite below...
Entering for an award this year?
We regularly partner with our customers to showcase the leading work we do in the social housing and local government sectors.
To collaborate with us on future award entries, get in touch today!