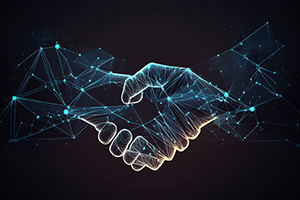 Lucy Ashall

In recent times, Artificial Intelligence (AI) has become an integral part of our daily lives, influencing various aspects of society, including the social housing sector. Most recently, with the advent of advanced AI models like GPT-3 (otherwise known as Chat GPT), AI technology has entered the public domain in a powerful way, making it a relevant and significant topic for discussion. Read on to see how we have AI implemented into our innovative solutions.
Why is AI relevant to us?
Voicescape Caseload Manager harnesses the power of AI, Machine Learning (ML), and extensive Data Science expertise to offer personalised, automated interventions on a case-by-case basis. Unlike traditional rule-based systems, it empowers organisations to make data-driven, risk-based decisions, leading to better outcomes for both officers and residents. Our use of AI helps to streamline the daily processes of collecting rent arrears.
Ethical Considerations in Caseload Manager
Recognising that new technology can sometimes bring with it feelings of uncertainty, Voicescape takes rigorous measures to uphold the highest AI standards. Handling tenant information, especially regarding protected characteristics, is a top priority. Here are the key ethical steps we follow:
Human Oversight: Caseload Manager works together with income officers to find the best intervention for each tenant. The AI tool provides valuable recommendations to aid informed decision-making and minimise errors. However, income officers do still have the ability to override recommendations if required.
Algorithm Accountability: Voicescape rigorously trains and tests its AI algorithms, ensuring they use the most recent data, whilst addressing human biases, and prioritising tenant well-being.
Bias Mitigation: Voicescape actively removes bias in data and models, employing rigorous testing and validation processes to ensure fairness and compliance with regulations.
Data Privacy: Voicescape prioritises tenant data privacy, processing data only for intended purposes, and complying with UK GDPR and the Data Protection Act 2018.
Regulatory Compliance: Voicescape aligns its processing activities with evolving AI regulations, promoting transparency and responsible use of machine learning models.
Notably, the system only utilises personal data to tailor recommendations with the view of helping tenants to improve their rent arrears, thus, prioritising those in greatest need, and striving for a positive outcome.
Positive Customer Impact
Our use of intelligent automation has shown impressive performance so far in the social housing sector:

"In the shift towards digital, Voicescape has transformed our approach to customer engagement. It has made us more efficient and responsive; meeting tenants needs whilst freeing up valuable officer time and saving our organisation valuable resource"

– Chris Holloway, Head of Housing & Neighbourhood at Greatwell Homes
Similarly, our pilot customer Thirteen Group, experienced similar outcomes: Caseload Manager reduced manual actions by 65%, freeing up officers from mundane tasks, enabling them to engage in meaningful, high-level interactions, driving efficiencies within the team. Furthermore, it facilitated the collection of an extra £9m in income, showcasing its effectiveness in collecting rent arrears and helping your internal teams perform.
"I am truly impressed with Voicescape and their cutting-edge software that utilises AI, machine learning, and behavioural science to manage rent arrears caseloads. I highly recommend Caseload Manager as a solution to any organisation looking to leverage the power of technology."

– Shaun Finegan, Director or Customer Experience at Accent Housing
In summary...
By harnessing the power of AI, Caseload Manager transforms social housing management, allowing officers to dedicate their expertise where it matters most – in providing exceptional support and care to residents. Importantly, Caseload Manager doesn't replace jobs, it enhances them.
From recent survey results, we have found that an increasing number of social landlords are looking to AI to help improve their performance. For those interested in learning more about the benefits of risk-based decisions and how AI and ML are implemented in Caseload Manager, Voicescape offers an eBook explaining the core business reasons behind this transformation. Embracing AI technology in social housing is not just a trend but a transformative step toward efficiency, responsiveness, and improved outcomes for all stakeholders involved.
Ready to make data-driven decisions?
Download the free eBook copy today and start recovering more debt, at a lower cost, and with a greater customer experience. Click here to download our eBook.
If you want to get your thoughts on AI heard, please follow this link to fill out our AI Insights Survey.