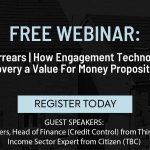 Voicescape will be holding two webinars addressing how engagement technology has now made the recovery of Former Tenant Arrears (FTA) a viable value for money proposition for social landlords.
Discussion Topic And Q&Q
Currently, UK Former Tenant Arrears totals £273 million in 2020 and provision for FTA bad debt stands at £265 million. Both webinars will therefore address the growing focus within the social housing sector on tackling Former Tenant Arrears, from a process and management perspective as well as from a recovery and income generation perspective.
Two expert guest speakers: Caroline Spiers, Head of Finance (Credit Control) from Thirteen Group and an income services expert (to be announced) from Citizen Housing Association will join Peter Hudson, Sales Director and Sector Specialist from Voicescape.
There will also be a live Q&A session after the presentations giving attendees the chance to ask additional questions.
Two Alternative Dates:
REGISTER FOR 12 AUGUST WEBINAR - Thursday, August 12th 2021 - 2:00 PM to 3:00 PM (BST)
REGISTER FOR 02 SEPTEMBER WEBINAR - Thursday, September 2nd 2021 - 10:30 AM (BST)
Who Should Attend
Chief Executive Officer
Head of Housing
Housing Director
Income Team Leader
Enquiries