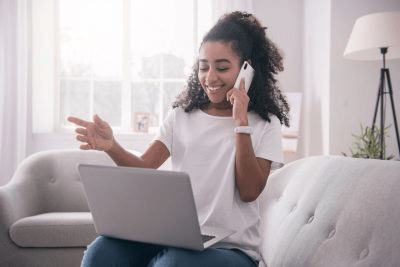 Muhammed Shaikh

Tenant engagement isn't new. But for some social housing providers, knowing how to best approach it isn't always obvious. Often there is an over-reliance on traditional methods such as template letters and phone scripts. However, the best tenant engagement strategy goes beyond this.Lockdown has created an immediate need for innovation in processes and technology. Already, these solutions are creating more efficient ways of working, more effective services and improved long-term tenant relationships.
Ultimately, we're still in the early stages of the pandemic and no one can really say what the future will hold. The full impact on the social housing sector will depend on various complex internal and external factors.
But one thing is clear: organisations whose board and management teams conduct scenario planning will be in the best position to handle these challenges. Not to mention those who have identified potential issues in their existing disaster recovery and business continuity plans.
As part of a range of initiatives Voicescape are undertaking to help the sector emerge from the crisis in good shape, we're carrying out research with a group of senior social housing professionals to understand how their income teams are approaching critical scenarios.
Here, we've detailed six common situations that your social housing providers and their income teams should be aware of:
1. Increasing pressure on landlords to engage with their tenants
The Coronavirus Act 2020 focuses on a number of landlord responsibilities - one of these being tenant engagement. From setting up financial support packages (such as reduced payment plans and advanced repayment arrangements) to satisfying judicial requirements in relation to Pre-Action Protocol, landlords need to ensure effective communication to avoid disengagement entirely and mitigate the risk of tenants getting into debt.
As well as this, landlords need to create clear and effective messaging strategies in line with different tenant behaviours. Response triggers and further engagement will also need to be considered.
2. A backlog of Notice of Seeking Possession (NOSP) and hearings
Income teams will be faced with a huge increase in complex cases that require human intervention - in turn, causing less severe cases to mount up.
While tightening the criteria for issuing NOSPs could control the volume of them, income teams need to find a way of dealing with cases that would normally receive a NOSP.
3. Outright Possession Orders becoming more difficult to secure
When the ban on evictions is lifted, it's likely that judges will be less willing to grant Possession Orders for fear of triggering knock-on effects associated with homelessness such as overloaded services.
Landlords will therefore come under increased pressure to demonstrate that all other avenues to resolution have been exhausted. Namely that they have engaged with tenants to understand their financial position and resolve disputes.
4. Landlords having to rely on repayment agreements to resolve arrears cases
Increased case volumes, combined with judicial reluctance to evict, means that landlords will become increasingly reliant on repayment agreements to resolve arrears cases.
This will require additional resources and will dramatically increase the timeframe of which cases are dealt with. Repayment agreements are also at risk of being broken, remade and built around low-value instalments and extended payment periods. The result? Landlords could find themselves carrying large amounts of unsecured debt for prolonged periods of time.
With this in mind, they'll need to consider new ways of assessing, establishing and managing repayment agreements.
5. Tenants with incomes unaffected by COVID-19 will set-up reduced payment plans
Unless landlords demand evidence that tenant incomes have been compromised by the pandemic, some tenants could take advantage of reduced payment plans.
In these cases, the tenant will effectively benefit from an increase in disposable income. And, when the plans are removed, not only will they have a considerable debt to clear, but their spending behaviours could have changed making paying the reinstated full rent a challenge. This will likely result in a second surge of new arrears cases.
6. Large amounts of debt will need to be written off
Even if the government doesn't support an arrears amnesty, landlords will unfortunately be left with no option but to write off large amounts of debt.
Given the increased volume, severity and duration of cases that result from the scenarios outlined above, the cost of recovering debt accrued during the coronavirus outbreak will start to outweigh the value of the debt itself.
Landlords will need to determine the impact of writing off debt. Not to mention decide which debts should be written off - and to what extent. Blanket approaches will result in landlords writing off debt that they could have recovered, whilst continuing to chase debt that will never be recovered.
Scenario planning in your organisation
While these scenarios deal with the impact on income teams, the list is not exhaustive. Other scenarios impacting social housing providers include finances, capital developments, staff absence, tenant wellbeing, health and safety, and compliance.
When reflecting on scenarios with your own board and management teams, consider a wide set of opinions and expertise. This will ensure you don't unconsciously bias the process with your own prejudices and limitations in knowledge of the current situation.
It is our collective duty to maintain vigilance in mitigating the impact and plan for scenarios during the coronavirus crisis. If we provide new solutions to the scenarios that this crisis is driving, we have the opportunity to emerge from the pandemic with a stronger society than ever before.
Landlords need to be innovative. And, technology will be at the forefront of the transformation. We're firm believers that technology can be used to improve the customer journey increase efficiency by freeing up resources, and help social landlords build sustainable tenancies. It will also help to ease society into the post-COVID-19 world.
Our research into how income teams are approaching critical scenarios will be published in May 2020. So, if you'd like a copy or want to discuss how technology could help you to provide a high-level of service, get in touch.